Salads and Such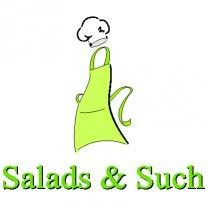 Register for our daily specials email by Clicking Here!!
Sundays We will be Closed Please make Note Thank You !!

Salads and Such is located in the Stop and Shop Plaza
(475 State Route 17M)
Contact us at 1-845-782-2420
Zingle us at 845-537-7383

You can create your own salad!
*Pick A Lettuce *Add Six Toppings *Add A Protein *Choose A Dressing *Toss Your Salad Or Have It Chopped!
We Also Feature *Hot Soups, *Paninis *Wraps *Daily Specials *Only 8 Frozen Yogurt *Freshly Baked Goods
Only 8 Frozen Yogurt - Americas Healthiest Frozen Yogurt!
Only EIGHT Ingredients, All Natural, Gluten-Free, Safe For Most Diabetics & Lactose Intolerants.
Hours of Operations
Monday through Saturday - 11:00am to 9:00pm
Sunday - CLOSED

This website was designed and is hosted by Byte-IT Computer Services www.Byte-IT.us